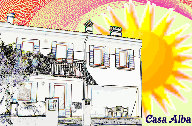 Casa Alba di Valerie Mac Garry
via Malan, 5a - 31030 Borso del Grappa (TV)
tel. 0423 561239 cell. 340 0970217
guest book














Une très bonne location en Vénétie
YD_fr (Forges Les Bains, France)
13/10/2010
Period: 7/2010
Family with children
Maison très agréable. Chambres et salles de bains très spacieuses. Cuisine simple mais bien équipée. Lave linge à disposition. Au calme dans Borso. Commerces à 5 minutes de voiture. Région touristique : à proximité Bassano, Vicenza et les villas palladiennes, Asolo, Vérone. Un peu plus loin, Trévise, Venise et Padoue. Et cerise sur le gateau, l'hôtesse est charmante et parle un excellent français
Werner Reisberger (Switzerland)
02/05/2011
Period: April 2011
Family with children
The house was very good equipped with things we needed. We could even find games for our kids. The host family was very kind and helpful.
Arcieri dell'isola Bergamasca (Bergamo, Italia)

12/12/2010

Period: 12/2010

Family

Grazie, per l'accoglienza mostrata nei nostri confronti.
E' stato un soggiorno piacevole.
A presto
Family Snopek (Poland and Germany)
22/08/2010
Period: 8/2010
Family with children
We come to Casa Alba from Boehmia, Nowy Sacz (Poland) and Gilching (Germany). The house and the whole region was beautiful. We liked stay here and we live here hundred smiles JJ

J
Sandrine et Valéry Estier (Montigny-le-Bretonneux, France)
22/04/2011
Period: 4/2011
Family with children
Nous avons passé un agréable séjour dans cette grande maison de Borso del Grappa.
Merci beaucoup pour votre accueil chaleureux, les délicieux biscuits et la tenue « impeccable » de la maison.
A bientôt
Rosy e Ferruccio (Brescia, Italia)
11/05/2011
Period: 5/2011
Mature Couples
Posto tranquillo, molto pulito e accogliente ! Dove passare un anniversario di matrimonio più sereno? Qui abbiamo trovato tutti gli ingredienti giusti!!
E che dire della gentilezza della Signora? Eccezionale!
Grazie
Logement très agréable et très bien situé
France
01/07/2011
Period: 6/2011
Mature Couples
Nous avons particulièrement apprécié la situation du lieu ,le calme, le confort, la propreté.
Il ne manque rien !
La gentillesse et la discrétion de la propriétaire sont à souligner.
Nous avons passé un excellent séjour.
A conseiller sans problème.
Great hospitality
Jonathan (France)
08/12/2010
Period: 10/2010
Friends - paragliders
The house is big, nice and clean. The reception is also very nice. I recommend it.
Awesome stay
Paul Vilnius, Lithuania
02/05/2011
Period: April 2011
Friends - paragliders
I stayed at Casa Alba for 9 days with a group of four paragliding pilots. This apartment stands out in terms of furnishing and all the supplies available to use (kitchen utensils, washing mashine with all detergents stocked, etc). Very convenient!
The owners live next door and were very helpful on any needs we had. Will stay there again!
Uns hat es gefallen
Tobias (Mannheim, Deutschland)
19/09/2011
Period: 9/2011
Friends - bikers
Uns (4 Personen) hat es in der Casa Alba sehr gut gefallen.
Das Haus bietet alles was man von einer Ferienwohnung erwartet und bietet bis zu 6 Personen Platz.
Die Besitzerin war sehr freundlich und hilfsbereit.
Im Haus befindet sich auch sehr viel Informationsmaterial zu der Gegend.
Supermarkt, Bäcker, Pizzeria, … alles in der Nähe
Für uns als Biker lag das Haus perfekt, da man direkt von der Haustür die Touren starten konnte.
Ganz besonders haben wir uns nach den Touren über die Waschmaschine gefreut, die bei uns täglich lief.
Wir kommen auf jeden Fall gerne wieder.
Un logement et un accueil remarquables
Denise (Tourtour, France)
06/10/2011
Period: 9/2011
Family , mature couples
Un logement en parfait état et un accueil trés agréable de la propriétaire nous ont permis de passer deux semaines de vacances que nous n'oublierons pas.
La situation du logement, aussi bien vers les sites naturels remarquables que pour la visite du patrimoine architectural de qualité dans les différents villages environnants, et bien sûr de Venise, nous conduiront à recommander tout particulièrement ce logement.
Fantastic location just under Monte Grappa
Richard (Sydney, Australia)
Period: 10/2011
Family with children
The apartment has a great location with a great view from the upstairs.
The apartment was impeccably clean with everything required for a family of four (or more).
There was even breakfast provided although a trip to the local pasticceria is well worth it for the crusty bread and local pastries.
Great value for money and only a short drive to Bassano or to the start of the road to Cima Grapp